Special issue of Gastroenterology, May 2016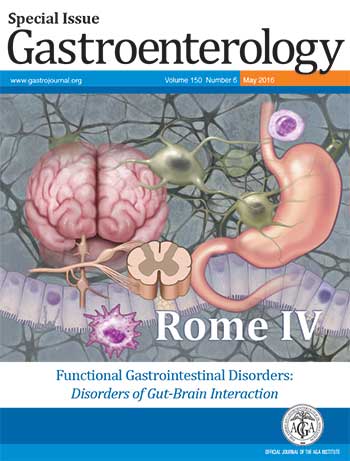 An important component of Rome IV is to provide in a high quality peer reviewed journal a condensed version of the Rome IV book.  The Rome IV articles were published in a special 13th issue in Gastroenterology (Volume 150, Issue 6, May, 2016), the official journal of the American Gastroenterology Association. With permission from the journal we are pleased to provide the links below which are available for download.
Douglas A. Drossman and William L. Hasler
Douglas A. Drossman
Stephen Vanner, Beverley Greenwood-Van Meerveld, Gary M. Mawe, Terez Shea-Donohue, Elena F. Verdu, Jackie Wood, and David Grundy
Guy Boeckxstaens, Michael Camilleri, Daniel Sifrim, Lesley A. Houghton, Sigrid Elsenbruch, Greger Lindberg, Fernando Azpiroz, and Henry P. Parkman
Giovanni Barbara, Christine Feinle-Bisset, Uday C. Ghoshal, Javier Santos, Stepen J. Vanner, Nathalie Vergnolle, Erwin G. Zoetendal, and Eamonn M. Quigley
Michael Camilleri, Lionel Buéno,† Viola Andresen, Fabrizio De Ponti, Myung-Gyu Choi, and Anthony Lembo
Lesley A. Houghton, Margaret Heitkemper, Michael D. Crowell, Anton Emmanuel, Albena Halpert, James A. McRoberts, and Brenda Toner
Carlos F. Francisconi, Ami D. Sperber, Xiucai Fang, Shin Fukudo, Mary-Joan Gerson, Jin-Yong Kang, and Max Schmulson
Lukas Van Oudenhove, Rona L. Levy, Michael D. Crowell, Douglas A. Drossman, Albena D. Halpert, Laurie Keefer, Jeffrey M. Lackner, Tasha B. Murphy, and Bruce D. Naliboff
Pandolfino JE, Fass R, Aziz Q Gyawali CP, Miwa H, Zerbib F.
Vincenzo Stanghellini, Francis K. L. Chan, William L. Hasler, Juan R. Malagelada, Hidekazu Suzuki, Jan Tack, and Nicholas J. Talley
Brian E. Lacy, Fermín Mearin, Lin Chang, William D. Chey, Anthony J. Lembo, Magnus Simren, and Robin Spiller
Laurie Keefer, Douglas A. Drossman, Elspeth Guthrie, Magnus Simrén, Kirsten Tillisch, Kevin Olden, and Peter J. Whorwell
Peter B. Cotton, Grace H. Elta, C. Ross Carter, Pankaj Jay Pasricha, Enrico S. Corazziari
Satish S. C. Rao, Adil E. Bharucha, Giuseppe Chiarioni, Richelle Felt-Bersma, Charles Knowles, Allison Malcolm, and Arnold Wald
Marc A. Benninga, Samuel Nurko, Christophe Faure, Paul E. Hyman, Ian St. James Roberts, and Neil L. Schechter
Jeffrey S. Hyams, Carlo Di Lorenzo, Miguel Saps, Robert J. Shulman, Annamaria Staiano, and Miranda van Tilburg
E. Jan Irvine, Jan Tack, Michael D. Crowell, Kok Ann Gwee, Meiyun Ke, Max J. Schmulson, William E. Whitehead, and Brennan Spiegel
Olafur S. Palsson, William E. Whitehead, Miranda A. L. van Tilburg, Lin Chang, William Chey, Michael D. Crowell, Laurie Keefer, Anthony J. Lembo, Henry P. Parkman, Satish S. C. Rao, Ami Sperber, Brennan Spiegel, Jan Tack, Stephen Vanner, Lynn S. Walker, Peter Whorwell, and Yunsheng Yang