Gaining Resilience through Transitions [GRitT]: Optimism, Gratitude and Self-compassion in a time of uncertainty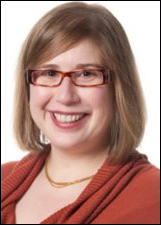 Laurie Keefer, PhD
Rome Board of Directors
GI Health Psychologist
Professor of Medicine and Psychiatry
Icahn School of Medicine at Mount Sinai, New York, NY
As if we all weren't trying our best to limit the role that patient care and the electronic medical record and patient care played in our personal lives, COVID19 has thrust many of us into a situation in which the boundaries between home and work are "virtually" arbitrary. As I work on this blog from my makeshift home office, my 10-year old son is building a sculpture made out of recyclables on the floor next to me for his online art class and I can hear my 12 year old daughter laughing in the next room as she participates in a google hang-out book club discussion with her language art class.
This afternoon, I will hold a full clinic of patients with GI conditions, many of whom are immune-suppressed and anxious about their health. Some of them are healthcare workers on the front line wondering if they should quit their jobs! My kids have been told that during this precious and meaningful clinic time, they must choose 1 of 3 educational documentaries a day I have picked out about epidemiology, climate change or social justice/inequities. And then, if I have a short break or cancellation between patients, can they PLEASE practice their piano/trumpet? Because School.Is.Only.2.Hours.A.Day!
How can we gain resilience during this uncertain time while still fulfilling our role as parents, caregivers, doctors and, potentially people at our own increased risk for death by COVID19?  I turn to the field of positive psychology, or the scientific study of how people flourish in the face of change, for some quick, helpful strategies.
Maintain Realistic Optimism
Despite false optimism/denial of the seriousness of COVID19 by our national leadership, maintaining realistic optimism during a crisis can actually be quite healthy and buffer our bodies physically against stress! Optimism is an attributional style that we can use to think about the cause of events or situations. Try and think about your daily COVID19 stressors as temporary (vs. permanent), isolated to the situation (vs. pervasive to your life as a healthcare provider) and externally caused (vs. personal or driven by your unique flaws or failures).
Savor the positive emotions
Positive emotions are critical to buffering against us stress and maintaining healthy immune function. During times of stress, we often forget to appreciate the small moments we have of success or progress towards a goal. If we go out of our way to recognize these and elevate them for ourselves and others, it can make a major difference in the ending valence of our day. Some positive emotions you can try and amplify are Excitement, Interest, Serenity, Amusement, Pride, Hope, Inspiration, Awe, Love and Gratitude (see below).
Express gratitude
As health leaders managing teams of nurses, medical assistants, graduate students and medical trainees, it is absolutely critical that we explicitly express gratitude for our team's efforts. Take a moment or two at each online meeting to have your team members express gratitude for each other, or highlight an example from the week for which you personally are grateful. Be sure to savor gratitude as well— the patients and community we serve are grateful for us and it is helpful to remember the moments when they actually articulate this. Not only is gratitude beneficial, but the attribution of gratitude to something personal about your strengths—"I killed it today in clinic because I am well trained/passionate/competent/innovative/smart/generous" or "We managed to reduce COVID19 exposure by 25% because my team had a clear message/worked together/has an effective method/is awesome…."
Do things with intention/purpose/mindfulness
We all multi-task and its perhaps even easier to do so when we are working remotely and people cannot see us typing chart notes from last week or folding laundry. Try to stay present in your meetings, just as you would if you were there in person. It may be theoretically inefficient, but will be more rewarding and meaningful at the end of the day.
Flexibility
Don't be afraid to change things up!  For me, seeing one patient an hour right now seems long, unnecessarily drawn out and draining.  I have told my patients that, in a time of crisis such as this, that in order for me to help as many people as possible, I can only see people for 20 minutes each.  Since they are not schlepping into NYC to see me, this doesn't seem so unreasonable—we are New Yorkers after all- get to the point!  But, in all seriousness, don't be afraid to remind patients if they forget that you are on the front lines and that everyone needs to sacrifice a little. Sometimes when people are anxious, they become more self-centered. We need to make sure we don't feed into that!
Maintain vitality
The worst thing about stress is that not only do we take a physiological hit from the cortisol and stress hormones circulating in our system, we also tend to forget the basics of self-care like sleep, exercise, and good nutrition.  Even though many gyms are closed, groceries are limited and we are not able to spend too much time outside, it is important to identify restorative activities that we can engage in that maintain our vitality, energy and sense of purpose. Look for companies offering free or reduced fee restorative services—amazon kindle has unlimited books for 2 months, headspace is offering providers with an NPI free upgraded access to meditation recordings, local YMCAs are offering workout classes.  Find these programs for your kids and pets too!
Self-compassion
Now more than ever, we must practice self-kindness, recognize our common humanity and focus on staying connected (vs. isolated) from others. Even though it may sometimes be easy to forget, most of us chose medicine as our profession because of our inherent compassion toward others and our desire to care for those in need. Times like this remind us of our call to service and can bring meaning and renewed passion into our lives.
There is a physiological basis to self-compassion – it deactivates our threat system (e.g., adrenaline) and activates our nurturing/caregiver system (e.g., oxytocin-opiate). This is in direct contrast to burnout, which is physiologically characterized by dysregulation of the sympathetic and parasympathetic systems and the hypothalamic–pituitary–adrenal axis. Indeed, there have been some studies demonstrating that a few minutes of self-compassionate behavior lowered cortisol and increased heart rate variability, both of which mediate the effects of stress on health. Self-kindness requires us to treat ourselves as kindly as we would a friend or patient in the same situation. Self-kindness also requires that we provide ourselves with sympathy when we experience disappointments through no fault of our own (e.g., despite all my best efforts, this telemedicine approach failed) and give ourselves the opportunity to nurture and soothe ourselves when we experience pain. Belief in a common humanity fosters engagement with others, recognizing that nobody is perfect and that others suffer as well. Isolating ourselves because we feel ashamed, embarrassed, or "crazy" during COVID19 only increases our suffering. As we engage with others, we are able to view things from a different perspective and also recognize that others around us have problems too. Indeed, social support may be one of the best buffers against burnout, particularly cynicism. Don't forget, you can still hold happy hour via FaceTime!